The Collaborative Innovation Center for Cardiovascular Disease Translational Medicine in Jiangsu Province (hereinafter referred to as "the Center") was established in 2013 by Nanjing Medical University together with Jiangsu Province Hospital, The First Affiliated Hospital with Nanjing Medical University and Tianjin Medical University. Focusing on innovation in the field of cardiovascular diseases, and following the purpose of significantly improving disease prevention and control, the Center aims to, by means of translational medicine research, strengthen the integration of basic research and clinical application, promote interdisciplinary exchanges, and boost the integration of universities, research institutes and enterprises. At present, the Center has 64 full-timepermanent staff, 17 part-time and jointly appointed staff, and 6 visiting and floating staff, including 1 academician of Chinese Academy of Sciences, 4 experts selected into the "Changjiang Scholars Program", 4 experts enjoying special allowance of the State Council, and 6 winners of the NSFC Fund for Distinguished Young Scholars. The director of the Center is Professor Chen Qi.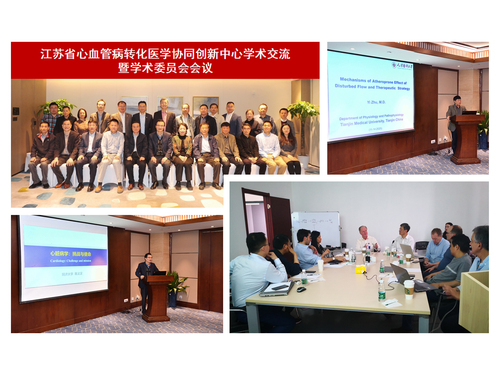 Since the establishment of the Center, its experts working in various research groups have, through collaborative research on major scientific issues in the field of cardiovascular diseases by virtue of advanced technologies such as genetic pedigree tracing and omics, made a series of important breakthroughs in such aspects as establishing new theories of disease causes, discovering new targets and lead compounds for disease intervention, creating new surgical methods, new strategies and new instruments for clinical treatment, and constructing new model animals, published several academic papers in top journals such as Science, Nat Med, NAT. Genet and Circulation, obtained a number of international and Chinese invention patents with corresponding patent transfer fees totaling tens of millions yuan, and won a number of national, ministerial and provincial awards for scientific and technological achievements.
Being active in international exchanges and cooperation, the Center maintains close contact and long-term cooperative relationship with relevant laboratories such as those in Texas Southwestern Medical Center in the US and the University of Manchester in the UK. The Center has successfully incubated and cultivated several specialized R&D bases for cardiovascular diseases, and cultivated and introduced a large number of high-level professionals. And now, it has become a glorious mission and goal of the Center to carry out in-depth research on cardiovascular diseases from a new perspective and contribute to improving the cardiovascular health level of people.