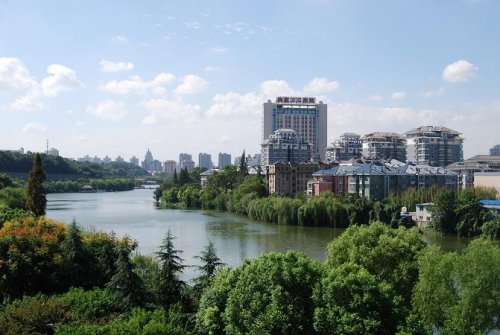 The Second Clinical School of Nanjing Medical University was established as an independent institute in January,2007. Now it is composed of a teaching office and 14 teaching and research sections,e.g. Internal Medicine, Surgery, Gynecology and obstetrics, Pediatrics, Ophthalmology, Otorhinolaryngology, Dermatology, Radiology, Traditional Chinese Medicine, Nursing, General family medicine & Geriatric Medicine, Diagnostics, General Surgery, Digestive Endoscopy departments.
During the 11th five-year plan, the School made a rapid development in education, discipline construction and teaching management; the comprehensive strength of teaching grew noticeably, and the teaching staff, curriculum and student enrollment also upgraded substantially both in quantity and in quality. Now our school has 10 doctoral supervisors and 73 master supervisors. All the instructors are qualified teachers (acquired qualification of teacher certification). 277teachers have a teaching job title, and the professors and associate professors account for 22 percent of the teaching staff, and 88 percent of them undertake the undergraduate courses. Of the total teaching staff, those with doctoral degree account for 15 percent,and those with master degree account for 37 percent. The school offers divers programs for five-year and seven-year clinical and pediatric majors in Nanjing Medical University, Kangda College,Further Education School and the Forth Clinical Medical College. Our school has begun enrolling and cultivating senior students majoring in clinical medicine of five-year-program per year since 2007.Since 2009, the Hospital has accepted foreign interns, and in 2011,it started to enroll probationers and interns in pediatrics. Since 2013, our school has begun intaking students of one class majoring in pediatrics of seven-year-programe and students of two classes majoring in clinical medicine of five-year-programe annually. Now the number of graduate students has increased substantially year by year.
With the strong support from Nanjing Medical University, the School has built a 400-square-meter Clinical Skill Training Center, a good practicing base for students,young physicians and teachers. The interns in the Hospital have won the first prize in internship interim inspection for five years.
The hospital has encouraged teaching research, and research projects have been significantly promoted both in number and in level. Meanwhile, the hospital has taken an active step to reform the education and evaluation of five-year clinical medicine program. The reform of subordinate courses has been implemented for 4 years, obtaining wide recognition from the students.
Address:The Second Affiliated Hospital of Nanjing Medical University(NJMU), No.121 Jiang Jia Yuan, Nanjing, Jiangsu Province, 210011, P. R. China
Education Department Chief: Cheng Yiqing, Tel (O): +86-25-58509799,
Email: erlinban@163.com