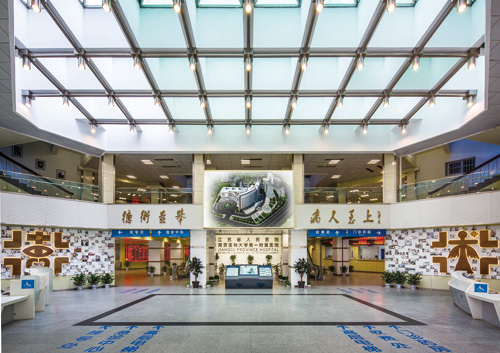 The First School of Clinical Medicine, Nanjing Medical University, formerly known as the Clinical Medicine Department of Nanjing Medical College, was established in 1934, along with the foundation of Jiangsu Medical Administration College (the predecessor of Nanjing Medical College), and renamed as "the First School of Clinical Medicine, Nanjing Medical University" in 1994 with the Nanjing Medical College upgraded to Nanjing Medical University. It's the largest and oldest medical school with the most comprehensive strength in Nanjing Medical University.
Located in the First Affiliated Hospital with Nanjing Medical University (Jiangsu Province Hospital), and performed an integrated management with hospital, the school is the medical treatment, teaching and scientific research center of Jiangsu province, including seven departments, 49 teaching and research sections, 3 authorized doctoral degree subjects of first-class discipline and 2 postdoctoral research stations, belonging to the first group entitled to authorize clinical doctoral degree in our country. The school has one national key discipline (cardiology), 1 preponderant discipline among the high education institutions in
Jiangsu
province, 2 key disciplines of Jiangsu province; 12 national key clinical departments, 3 clinic medical centers and 5 clinical medical research centers in Jiangsu province.
At present the school has 1369 clinical teachers, including 99 professors, 202 associate professors, 73 doctoral supervisors, 210 master supervisors, of which 1 is academician of the Chinese Academy of Engineering, 1 holder of the national funds for outstanding youth, 1 holder of the national funds for excellent youth, 1 for "thousand youth talents plan" selected by CPC's Organization Department, 1 new-century talent selected by China's Ministry of Education, and 7 high-level innovative entrepreneurial talents selected by Jiangsu province.
At present the school totally has 1445 undergraduates, 967 seven-year course students, 455 doctoral candidates and 877 master degree candidates. The school possesses 2 national characteristic discipline constructions, 3 Famous Brand Disciplines of Jiangsu province, 5 clinical teaching demonstration centers of Jiangsu province, 3 excellent courses and 3 excellent textbooks at provincial level. Nearly three years, the school has undertaken 7 teaching research topics at or above the provincial level, obtained 2 teaching awards of Province and Ministry, 1 piece of provincial excellent doctoral dissertation, 3 pieces of excellent master dissertation. In the national clinical skills competition for undergraduates from medical schools and universities organized by the Ministry of Education and the Ministry of Health, our students achieved championship in the first competition in 2010, the second award in 2011, and the first prize in 2012.
Address:300 Guangzhou Road, Nanjing, China Post code:210029
Tel:025-85038002 (office of dean), 85038010 (office of teaching affairs)
Fax:025-85038009
URL:http://dylc.njmu.edu.cn/