CURRICULUM VITAE
Sun Zhihua
1. Personal Information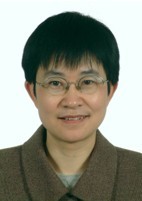 Title/Position: Chief Physician, Professor, Department of Gynecologic Oncologic Radiotherapy, Jiangsu Cancer Hospital
Correspondence Address: Baiziting No.42, Nanjing, Jiangsu, China, 210009
Telephone: 025-83283543
Fax:
E-mail: szhnj@163.com
2. Education
Xuzhou Medical college,

Jiangsu

, China

Suzhou University, Jiangsu, China
3. Research Interests
Sun Zhihua has clinic work and research experience in gynecologic oncology for 27 years from 1986. In recent years, her research has focused on the gynecologic oncologic radiotherapy, cervical carcinoma and so on. In particular, the number of her patients at outpatient service was No.1 among all doctors of Jiangsu Cancer Hospital in recent 5 years. Besides, she obtained 1 fund subsidy about gynecologic oncology from Jiangsu Health Department in 2007.
4. Selected Publications
Sun Zhihua, Wu Qiang, Feng Jiliang, Zuo Lianfu, Liu Jianghui, Zhang Xueguang. Detection of CX43 and P-gp in chemotherapy resistance ovarian carcinoma.Acta Univ Med Nanjing,2005,25(3):169-71
Sun Zhihua, Wu Qiang. Radiotherapy of 278 cases cervical carcinoma.Acta Academiae Medicinae Xuzhou, 2004,24(6):585-7
5. Scholarly and Professional Activities
Vice-head of Jiangsu center of The Committee of Gynecologic Oncology of Chinese Medical Association.