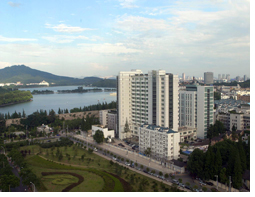 Jiangsu Cancer Hospital, also known as Jiangsu Cancer Prevention and Control Institute, is a Level Three Grade A public hospital focusing on the specialty of oncology. Located at the side of Xuanwu Lake, Nanjing, Jiangsu Province, the hospital is easy to reach and has a nice environment. The hospital was formerly Jiangsu Hospital founded in 1960. In December 1973, Jiangsu Cancer Prevention and Control Institute was set up here. In 1991, the present name was added to the hospital. Today, the hospital is a center of Jiangsu in cancer prevention, control, research, education, and technical instruction. The hospital has a land area of 3.18 hectares and a total floor space of 64,000 square meters. Officially the hospital has 858 beds and actually there are 1,115 beds available for patients. In 2012 the hospital had 32,458 inpatient admissions and 199,159 outpatient visits.

In 2011, the hospital successfully became affiliated to Nanjing Medical University. The research group led by Director Tang Jinhai won Jiangsu Science & Technology Progress First Class Award. The Department of Health of Jiangsu honored Dr. Yan Feng a Leading Talent in "Promoting the Health Service through Science and Education". In 2012, the Department of Oncology of the hospital entered the first group of "Demo Ward for Standard Treatment of Cancer Pain" in China.

The hospital pays much attention to the construction of its talent resources and has a well-structured expert team. Through the accumulation of know-how and expertise over generations, the hospital has gathered the largest expert team of basic research and clinical medicine of oncology in the province. At the same time, it has trained thousands of oncologists for hospital in Jiangsu and other provinces. The hospital presently has 1,303 employees including 1,221 professionals. Among them, 268 experts have senior professional titles, 347 experts have medium professional titles, and 219 people have master or doctoral degrees. There are also 18 experts enjoying the State Council special allowance, 2 provincial leading medical experts, 5 provincial key medical experts, 5 Middle-Aged and Young Experts of Outstanding Contribution of Jiangsu, and 24 experts have been nominated for Jiangsu 333 Program.

The hospital consists of 22 administrative divisions, 15 departments of clinic and diagnostic medicine, and 5 centers for basic medical research. It has a complete range of specialties in oncology and prominent medical advantages. The Department of Thoracic Surgical Oncology is a unit of National Key Clinical Specialty Development and a provincial center for minimally invasive thoracic surgery. The Department of Radiation Therapy is a key discipline of Project 135 and the Jiangsu Radiation Therapy Center. The provincial key clinical specialties of the hospital include radiation therapy, oncology, thoracic surgery, head and neck surgery. Its gynecologic oncology surgery and medical imaging are provincial key clinical specialties for special development. It has provincial clinical research centers for breast cancer, intestine cancer, and lung cancer. Jiangsu Cancer Chemotherapy Center in the hospital is a provincial diagnostic and treatment center for specific diseases. As a national institute for clinical drug test, the hospital has considerable advantage in clinical test of anticancer drugs. It is now the only service center for clinical test of anticancer drugs in Jiangsu and has participated and hosted the clinical research of more than 100 new drugs. Institutions operated inside the hospital include Jiangsu Cancer Prevention and Control Office, Jiangsu Clinical Laboratory Center, Jiangsu Quality Control Center for Cancer Radiation Therapy, and Jiangsu Medical Service Quality Control Center for Oncology. The editing office of Chinese Journal of Surgical Oncology is located inside the hospital.