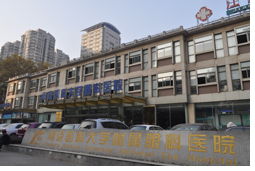 Nanjing Medical University Eye Hospital, also known as Jiangsu Red Cross Eye Hospital, is a hospital of the Fourth School of Clinical Medicine, Nanjing Medical University. Founded on the basis of the former China-Japan Friendship Nanjing Eye Hospital, it is the only Level Three nonprofit ophthalmology hospital in Jiangsu. In line with international standards, the hospital undertakes medical service, education, and research in the field of ophthalmology.

The hospital has a floor space of 3,360 square meters and 80 beds at its phase I site. It has 133 employees, including 9 professors (senior physicians) and 11 associate professors (associate specialists). Among them, there are 5 experts with doctoral degrees, 1 doctoral supervisor, and 3 supervisors for MS students. It has the strongest ophthalmologic expert team among all hospitals in Jiangsu.

The ophthalmology specialty of the hospital is a Nanjing key medical specialty. There are 16 subspecialties under ophthalmology in the hospital, including cataract, glaucoma, refraction and corneal disease, uveitis and ocular fundus disease, eye injury, external eye disease, tear duct disease, strabismus and amblyopia, TCM-integrated ophthalmology, ocular oncology and plastic surgery. Specialist consultation service and clinic service for specific diseases are available here and renowned experts serve as specialty research leaders.

The hospital also serves as the training and assessment base for optometrists and the leading institution of the optometry group of Chinese Association of Intergrative Medicine Ophthalmology Committee. It is an education site of Nanjing Medical University for master and doctoral students. Its Medical Optometry Teaching Lab and Key Lab of Optometry and Vision Science are labs of distinctive and predominant disciplines of Nanjing Medical University jointly funded by central and local governments. Its specialty of ophthalmology (optometry) is a key specialty of Nanjing and a key discipline of the university.

The talent advantage grants the hospital the capacity of promptly grasping and applying the latest international ophthalmic technology. The awards the hospital won include 1 Chinese Medical Science Third Class Award, 1 Jiangsu Medical S&T Progress First Class Award, 3 Jiangsu S&T Progress Third Class Awards, 1 S&T Progress Award and 1 New Technology Import First Class Award granted by Department of Health of Jiangsu. Current research of the hospital includes 2 National Natural Science Foundation projects and 1 special early stage project of 973 Program. Finished research projects include 2 Jiangsu Natural Science Foundation (Basic Research Plan) projects, 2 Jiangsu Colleges and Universities Natural Science Basic Research projects, 1 Nanjing Science and Technology Program project, 7 Nanjing Medical University Research Foundation projects, and 2 Jiangsu Post-doctoral Foundation projects. On August 27, 2012, the hospital was included in the National Key Clinical Specialty Development Program.

The hospital is constantly strengthening its team of teachers. It carries out the teaching of theoretical courses and the internship programs of Nanjing Medical University and Nanjing University of Chinese Medicine and the internship program for students who study optometry in Jinling Optometry College. After approved by Ministry of Health and Ministry of Education, the optometry education program of the hospital started to admit students in 2009 and currently there are 76 students. Besides medical service and education, the hospital attaches importance to research in its development. Since the foundation of the hospital, there have been 33 academic papers included in SCI.