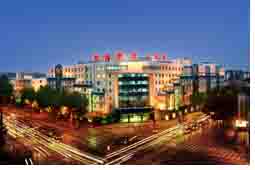 Nanjing No. 1 Hospital was founded in February 1936 and it is also known as Affiliated Nanjing Hospital of Nanjing Medical University. It is one of the first Level Three Grade A general hospitals accredited by Ministry of Health. The hospital also serves as the third School of Clinical Medicine of Nanjing Medical University, Nanjing Cardiovascular Hospital, National Clinical Drug Test Institution, one of the nation's first group of hospitals eligible for heart transplantation, one of the nation's first group of pilot institutions for work injury rehabilitation, the training base of Ministry of Health for percutaneous coronary intervention and endoscopic diagnosis and treatment, Jiangsu Clinical Test Service Center for Cardiovascular Drugs, Jiangsu Coronary Heart Disease Center, the training base of Jiangsu for general practice doctors and residents, Nanjing Diabetes Prevention and Control Center, Nanjing Clinical Nuclear Medicine Center, and Nanjing Red Cross Eye Bank etc. In November 2002, the hospital passed the ISO9001 quality management system certification organized by BSI Pacific Limited.

Presently the hospital has a land area of 58,608 square meters, a total floor space of 74,823 quare meters, and 1,500 beds. In 2011, there were 1,465,000 medical visits and 47,000 inpatient admissions. The hospital now has 2,117 employees, including 280 senior medical experts (such as professors and associate professors). With complete medical specialties, the hospital has 1 state-level key medical discipline, 1 national key clinical specialty, 2 provincial key medical disciplines, 2 key disciplines of Nanjing Medical University, 13 provincial key clinical specialties, 19 municipal key clinical specialties, 37 master and doctoral education programs, and 1 postdoctoral research center.

In 2005, the hospital was established as Nanjing No. 1 Hospital Group, which united 17 Level Two hospitals in Nanjing, north Jiangsu, and Anhui. Since then, the hospital has been exporting its medical expertise and has set up 68 diagnosis and treatment branches in large and medium-sized hospitals in Jiangsu, Anhui, and Hubei and the specialties of these branches include cardiology, diabetology, orthopedics, general surgery, rehabilitation medicine, ophthalmology, intervention treatment, obstetrics and gynecology. The honors that the hospital received include National Excellent Medical Group and Jiangsu Excellent Medical Unit of the Excellence Campaign.